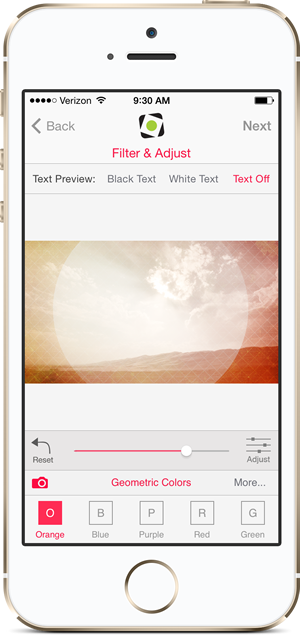 Shift Worship Media Creator App
You could keep finding worship media the way you've always done it. Search. Sort. Search some more.
Or you could use that powerful, high-end camera you've got in your pocket to shoot exactly the image you want, quickly and easily make it exactly the right size - and make it gorgeous - before sending it straight to your ShiftWorship account to download into your software.
It's fast. It's easy. It's fun. And it puts all the creative power right in your hands. Worship media will never be the same.

Your Images

Shoot what's right in front of you or use any image already on your phone

Format Options

Select from SD or HD dimensions - or choose Triple Wide for Environmental Projection

Filters and Overlays

Customize your background to fit your service needs

Share

Save to your camera roll, email - or send them to your ShiftWorship account to download later and drop into your software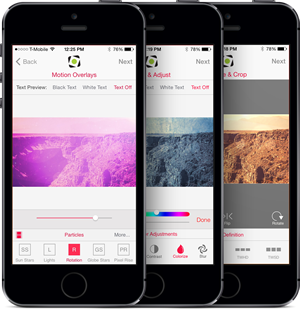 Will the app work with my iPhone, iPod and/or iPad?
The Shift app is an iPhone app (though it will work as such on iPads). It requires iOS 7 or newer. It is fully compatible with iPhone 4S and newer, the iPad 2 and newer and the 5th generation iPod. Motion overlays will not work with the iPhone 4 or iPad 1.
Is the Shift Media Creator available for Android phones?
Not yet. We had to start somewhere. If things go well, we plan to develop an Android version soon.

Do I have to have a ShiftWorship account to use the Shift Media Creator?
Yes. You'll need to login to your account the first time you fire up the app. It also makes it really easy to zap your media to your account and download them from there like any other background you would get from us. And it is free and easy to register for an account on ShiftWorship.
Do I have to have a ShiftWorship All Access Pass to us the Shift Media Creator?
No. We think the ShiftWorship All Access Pass for $149/year for everything on our site will still be the best deal in all of church media, but you don't have to have one to use the app - just an account (and that's free).
Can I use any image in my phone or do I have to shoot it from the Shift Media Creator app?
No, any image on your camera roll will work.
Can I save images or movies I take with the Shift Media Creator app to my camera roll on my phone?
Yup.
Couldn't I just do the same thing with Instagram or some other photo app? Why do I need the Shift Media Creator?
Of course, you can make your own media lots of ways - and we know that many churches are already doing that. The Shift Media Creator just makes it easier and way more fun. No software required. No computer needed. No resolution issues. And making motion backgrounds, especially, is much simpler than doing it yourself with other "do it yourself" methods. At least we think so.
And, of course, the Shift Media Creator app is the only method that is seamlessly integrated with your ShiftWorship account for quick and easy downloading.